Harry Potter and the Cursed Child - Parts One and Two
by
J.K. Rowling
My rating:
2 of 5 stars
I knew J.K. Rowling didn't really write this. I also knew that it's a play unlike all the Potter books. And yet, I couldn't stop myself from picking this up to see how Harry Potter turned out as an adult. I did finish it but unlike desperate fans waiting to see what happens next, I took my time and plodded through what I can now describe as an underwhelming piece of fan fiction. I am sure the play would be a visual spectacle, but reading it certainly didn't work for me.
The Vegetarian
by
Han Kang
My rating:
3 of 5 stars
A Korean woman gives up eating meat after having a dream. The novel contains three different points-of-view of how this affects relationships with her husband, her sister, and her brother-in-law. "The Vegetarian" is a dark and often unpleasant tale about Yeong-hye's struggle to cope with societal expectations. Short, simple and yet, powerful and extraordinary.
13 Ways of Looking at a Fat Girl
by
Mona Awad
My rating:
3 of 5 stars
In her debut, Mona Awad explores the pressures of losing weight to conform to societal stereotypes. In 13 inter-linked stories about the life of Elizabeth/Lizzie/Beth, we are shown a woman obsessed about her body image who takes her diet and exercise more seriously than she should. Does she achieve happiness when she does lose weight? Despite flashes of humour, this is not a fun book to read. You never start loving the protagonist. Rather you pity her as she lurches from one fat-loss remedy to another.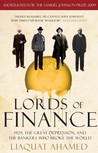 Lords of Finance: 1929, The Great Depression, and the Bankers Who Broke the World
by
Liaquat Ahamed
My rating:
4 of 5 stars
There have been financial crises since the Great Depression, but none so catastrophic than one that put millions of people out of work and set the stage for World War II. And four central bank chiefs at the time played their part in making it happen. Ahamed's book is not a treatise to be read by economists and central bankers; there are enough insights and anecdotes to make "Lords of Finance" a work to be enjoyed by all. He makes history - and the economics of it - interesting. Recommended.
Sunshine Sketches of a Little Town
by
Stephen Leacock
My rating:
4 of 5 stars
Time for some humour and who better than Stephen Leacock. The fictional setting of "Sunshine Sketches of a Little Town" (1912) is Mariposa and the stories focus on the characters that populate it. What I like about Leacock's work is that he's seldom acerbic, and the humour is derived from hyperbole and some fantastic descriptions. This is a book that will appeal to everyone. Recommended.
View all my reviews