The Man in the High Castle
by
Philip K. Dick
My rating:
3 of 5 stars
I started reading "The Man in the High Castle" while simultaneously watching the TV series. And discovered that apart from the main characters, the 2016 Amazon series is a very loose adaptation of the 1962 novel. What is common is this: the Nazis won the Second World War, and Germany and Japan now rule over the United States of America. No spoilers here so I would just say this is one of the few instances where the TV adaptation of this alternate history might be better than the original - pacier, fleshed-out characters and a visual treat. Not that the book is boring, but the series is a thriller.
A Dog's Purpose
by
W. Bruce Cameron
My rating:
3 of 5 stars
The writing isn't top-notch, but the premise is certainly interesting. This is a heart-warming read about a dog searching for life's purpose over the course of several lifetimes. A must read for dog lovers, whether or not you believe in reincarnating dogs. The Hollywood movie adaptation opens in cinemas later this month. Woof!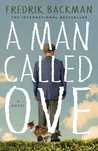 A Man Called Ove
by
Fredrik Backman
My rating:
4 of 5 stars
A heartwarming novel about Ove, a curmudgeonly man whose life changes when a family moves next door. Written in deceptively simple language (originally in Swedish), this is a story about hope and kindness in an unforgiving world. Highly recommended. The Swedish movie adaptation is a contender in the Best Foreign Language category at the Oscars.
View all my reviews